Caktus has been recognized as one of the Top Web Development Companies in the Triangle area
Caktus Group is a full-service custom web application and development firm equipped with the tools necessary to get the job done. Our award-winning team forms partnerships with our clients to design, develop, and kick-start unique digital applications. We create scalable solutions with the most valuable features first that grow as the organization grows. With our client partners, we have impacted close to 100 million people worldwide. Thanks to our dedicated team, we have been awarded the title as one of the Top Web Development Companies in the Raleigh/Durham area, according to Clutch.
Learn more about our approach to partnerships in this business case.
Clutch is a B2B ratings and review firm located in Washington, D.C. Clutch works with thousands of tech companies worldwide to connect them with potential clients. Clutch analysts do this by creating two scores per company and then ranking them based on industry and location. The scores are formulated after Clutch analysts conduct interviews with the company's previous clients in order to generate honest reviews. The scores are based on a company's success, market presence, and client reviews. Caktus clients who've spoken with Clutch analysts have given us a perfect score of 5 stars. Here is one of those reviews: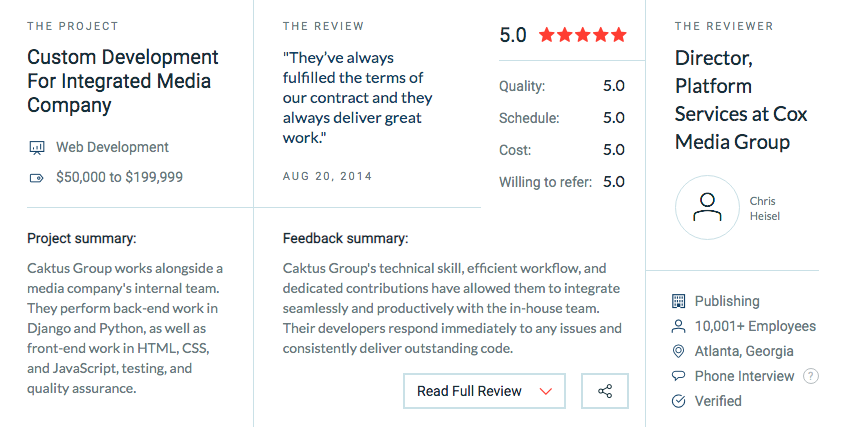 Two of Clutch's sister sites have also listed Caktus in their rankings. The Manifest has listed Caktus amongst its rankings as one of the Top 100 Web Development Companies in the World, and Visual Objects has also published our portfolio items and listed us amongst their Best Web Developers list. The Manifest collects business tips, business news, and industry rankings, while Visual Objects has curated portfolios of visual and creative design firms so that prospective customers can see real results.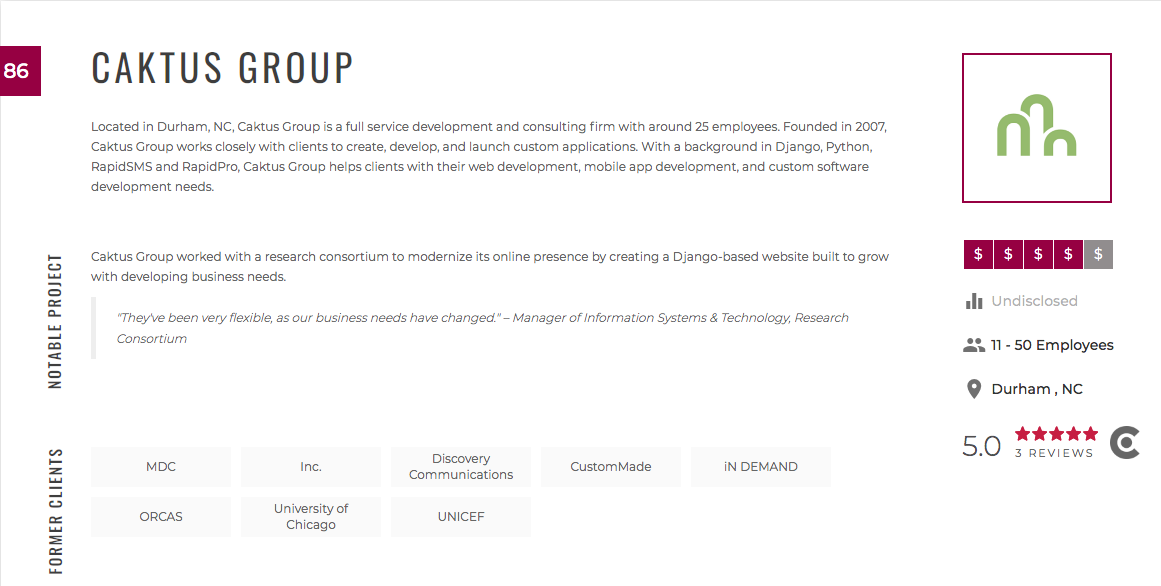 The Caktus team is very excited to be recognized by Clutch and hope to continue to build our portfolios and profiles in the future. Contact us today to see how we can help you with your next project!